About The Film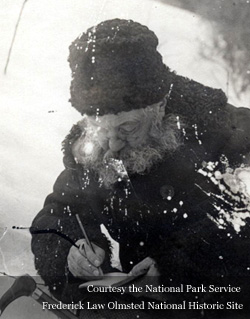 The film features the voices of Kevin Kline and Kerry Washington.
151 years after Frederick Law Olmsted designed New York City's Central Park with Calvert Vaux, it remains an undisputed haven of tranquility amidst one of the largest, tallest, and most unnatural places on earth.
Olmsted and America's Urban Parks, a one hour documentary, examines the formation of America's first great city parks in the late 19th century through the enigmatic eyes of Frederick Law Olmsted (1822 – 1903), visionary urban planner and landscape architect.
With incredible foresight that spanned centuries, Olmsted brought nourishing green spaces to New York, Boston, Chicago, San Francisco, Atlanta, Louisville, and dozens of other US cities. Throughout his working life, Olmsted and his firm carried out over 500 commissions, nearly 100 of which were public parks. The parks, he held, were to be vital democratic spaces in cities, where citizens from all walks of life could intermingle and be refreshed.
Prior to officially committing to landscape architecture, Olmsted was a New York Times correspondent to the Confederate states, the manager of a California gold mine, and General Secretary of the United States Sanitary Commission during the Civil War. The man, a workaholic by today's standards, plagued with chronic ailments, spent the latter half of his life devoting nearly every waking minute to creating restorative green spaces for overworked city dwellers. In large part through his own words, this film weaves together his engaging and poignant personal story with those of the lasting masterpieces he left for us today.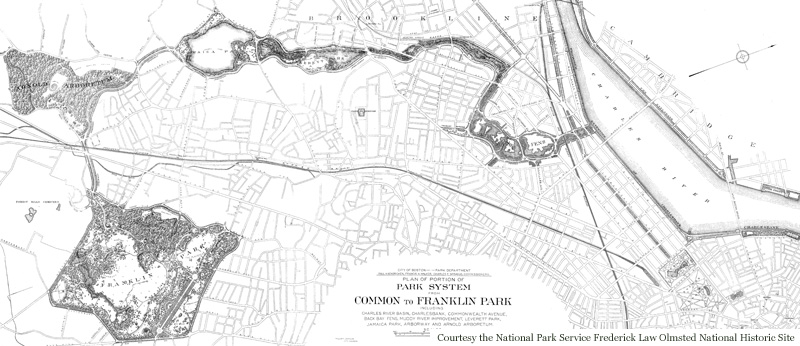 Completed On Camera Interview Subjects:
Charles Beveridge – Author, Frederick Law Olmsted: Designing the American Landscape; series editor, The Papers of Frederick Law Olmsted, Department of History, American University, Washington D.C.
Witold Rybczynski - Professor of urbanism, University of Pennsylvania; author, A Clearing in the Distance: Frederick Law Olmsted and America in the Nineteenth Century.
Arleyn Levee – Former chairperson, National Association of Olmsted Parks; board member, Emerald Necklace Conservancy; Olmsted historian.
Betsy Shure Gross – Co-founder, National Association of Olmsted Parks; former vice president, Emerald Necklace Conservancy; board member, City Parks Alliance.
Adrian Benepe – Commissioner, New York City Department of Parks and Recreation.
Doug Blonsky – President, Central Park Conservancy; administrator and landscape architect, Central Park.
Sara Cedar Miller – Official historian and board member, Central Park Conservancy; author and photographer, Central Park, An American Masterpiece and Seeing Central Park: The Official Guide to the World's Greatest Urban Park.
Tupper Thomas – President, Prospect Park Alliance; administrator, Prospect Park.
Michael Dukakis – Former governor, Commonwealth of Massachusetts; Democratic nominee for US President in 1980; professor of political science, Northeastern University.
Morrison Heckscher – Lawrence A. Fleishman Chairman of the American Wing, Metropolitan Museum of Art; author, Creating Central Park.
Margaret Dyson – Director of historic parks, Boston City Parks and Recreation.

Olmsted and America's Urban Parks was photographed using the RED One video camera system – the first digital video camera with a resolution that exceeds 35mm film.
All principal photography for Olmsted and America's Urban Parks has been completed, and the film is now in its final stages of editing.
Key Personnel:
A Film By
Rebecca Messner is a first time filmmaker, and an Olmsted enthusiast. As a writer, Rebecca's work has appeared in Johns Hopkins Magazine, Urbanite Magazine, and Time Out New York.
George deGolian, Academy Award nominated and Emmy winning filmmaker, produced such works as Academy Award nominated Gullah Tales, a series of films based on Southeastern Folk Literature; Emmy Award winning The Bitter Berry: the Life and Works of Byron Herbert Reece; and Voices in the Wind. Each of these projects aired on PBS stations throughout the United States and all remain in distribution to libraries, museums, and schools across the country.
Michael White, while working for Turner Broadcasting, served as Supervising Producer for the documentary series Liars and Legends and Off the Menu. He produced the TV series Southern Living Presents and Southern Home by Design. In addition to his eleven Emmy Award nominations, Michael has been nominated for the prestigious James Beard Award in recognition of his work on Off the Menu.
Executive Producer
Mike Messner has over 30 years' investment experience on Wall Street. Mike is the co-founder with his wife, Jenny, of The Speedwell Foundation, sponsor of Olmsted and America's Urban Parks. He is currently spearheading a nationwide initiative to bring more green space into our cities (www.redfieldstogreenfields.org).
Editor
Emma Joan Morris is an Emmy Award winning producer/director/editor whose work includes the feature documentary Something Within Me, winner of the Audience Award, Film Makers Trophy and a Special Grand Jury Award at the Sundance Film Festival. She was a co-editor of Shut-Up and Sing, a feature documentary on the music and politics of the Dixie Chicks. Her other editing credits include the Academy Award winning documentary Close Harmony and A Stitch for Time, which received an Academy Award nomination. She has edited films for all of the major networks including HBO, PBS, A&E, CBS, ABC, NBC and Discovery Channel.
Music
Joel Goodman, acclaimed by The Hollywood Reporter as an "Indie Composer to Watch," is a multi-talented, award-winning composer. Joel recently scored "Canvas," starring Oscar winning actress Marcia Gay Harden & Joe Pantoliano, "Constantine's Sword" (First Run Features), "Hear & Now" (HBO), "Walt Whitman" (PBS - American Experience) and the multi award winning film The Cats of Mirikitani. His original composition credits include work on Oscar and Emmy Award winning films, including "Sister Rose's Passion" (2005 Academy Award Nomination); "The Collector of Bedford Street" (2004 Academy Award Nomination) and "Children Underground" (2002 Academy Award Nomination).
Contact:
contact@olmstedfilm.org